Gregg Allman the founder of the Allman Brothers has been having a lot of trouble in his love life. For the seventh time in his life he is again in love and this time he is engaged to a 24-year-old women.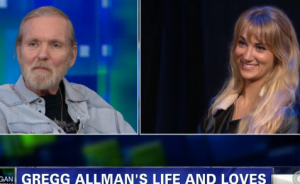 The 64-year-old Allman Brothers founder revealed on "Piers Morgan Tonight" that he's getting hitched to Shannon Williams.
Morgan asked, "How does she feel about becoming wife number seven?"
The Rock and Roll Hall of Famer responded definitively, "That's not what she's becoming. She's becoming wife number one. I don't have a wife. I haven't had one for years."
Allman, who was once wed to Cher, told the host he's getting married again "because this time I'm really in love."
He said that of his six previous marriages, he was only in love with two of the women, but "they didn't reciprocate."
Looks like this vicious cycle will continue?
True love? Money Love? Tell Us.