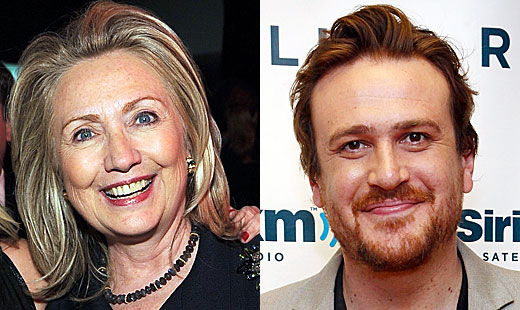 All Jason Segel wants is to make a movie with Hillary Clinton, the United States Secretary of State. But Hillary Clinton keeps turning down his requests.
Jason Segel, the "Five Year Engagement" star, will have to wait a lot longer than five years to team up with his dream co-star, Secretary of State Hillary Clinton.
Back in March, Segel told Us Weekly he thinks Clinton would be "good at comedy," and even picked out a title for their future film: "Sarah Marshall 2: This Time It's Personal."
Last week, Segel admitted to Jimmy Fallon that he often tells people that Clinton is the mysterious, unnamed mother on his hit sitcom, "How I Met Your Mother."
Unfortunately for Segel, Clinton is a busy woman — but she took the time to let him down gently in a rejection letter.
The letter, obtained by Politico, reads as follows:
I was delighted to read about your interest in sharing the big screen with me. As you can imagine, I am a little occupied at the moment, but perhaps someday I can help you forget Sarah Marshall … again. My only condition is that there be Muppets involved, and that is non-negotiable. In the meantime, you have my best wishes for continued success with your career.
Stalling ? Or will she really join in to make a movie ? Time will tell…