TV medical drama "House" ends on a bittersweet note this month in a series finale titled "Everybody Dies" that sees cantankerous but brilliant Dr. Gregory House examining his future and personal demons, show creator David Shore said on Thursday.
But Shore refused to give details of the final episode, or how returning characters including doctors Alison Cameron (Jennifer Morrison), Remy "Thirteen" Hadley (Olivia Wilde) or the dead Lawrence Kutner (Kal Penn) will make their mark as "House" ends its run after eight years.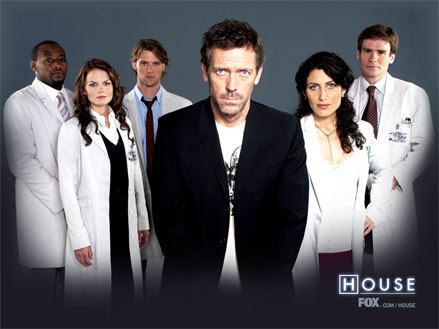 "It is definitely an ending. I don't want to say more than that. We never do happy endings but we also try not to simply do miserable endings. Bittersweet is the most you can hope for," Shore told reporters ahead of the two-hour series finale on May 21.
"It's about House assessing his future," Shore said. "We developed the idea for the final episode months and months ago … It allowed us to explore the nature of House's character and it also allowed us to naturally bring back other people."
The title of the series finale also is a nod to 2004's first episode of the Emmy award-winning show called "Everybody Lies" – a phrase that became the mantra for British actor Hugh Laurie's misanthropic, rule-breaking diagnostician in his bid to solve medical puzzles.
"House" was named the most popular current TV show in the world in the 2012 edition of the Guinness World Records. It has an estimated audience of 81.8 million people in 66 countries.
Shore said he envisioned no endgame in mind when he created the series eight years ago, calling the idea of a mapped-out finale at that stage "incredibly pompous" in the fickle world of television.
And he said he had few regrets about key cast changes over the years and storylines that have seen House in prison, in rehab, and even in love, most controversially with his boss, hospital administrator Dr. Lisa Cuddy, played by Lisa Edelstein.
Edelstein, who left the show last year as her love affair with House turned sour, won't be returning for the last episode.
But Shore on Thursday defended the storyline that finally brought the two characters together.
"I know a lot of people thought we should have done it better, a lot of people thought we shouldn't have done it, a lot of people thought we should have kept them together. It's been a bit of a lightning rod. I'm not saying we did everything perfect … But fundamentally we had to (put them together). You can't have sexual tension go on and on and on," he said.
He also declined to elaborate on how the character of Kutner – who was found shot to death three years ago – and those of Cameron, Thirteen and Masters (Amber Tamblyn) would re-appear in the final episode.
As to who will die? Stay tuned for the May 21 finale on Fox television and a one-hour retrospective of clips and interviews with the show's stars and producers.
Source: Reuters