Jake Owen sure will not forget his wedding easily, not because of the weeding itself but because of how he got there. Jake Owen was handcuffed and detained by police on Saturday for losing his head and at sunrise on Monday Jake Owen and Lacey Buchanan got married.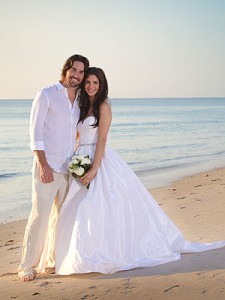 It seems Owen's celebration of Cinco de Mayo over the weekend got a little out of hand at a Vero Beach restaurant.
A sheriff's deputy cuffed Owen for his behavior, leading the singer to complain about the incident (for which he was not formally arrested) on Twitter, blasting the cops for overreacting and posting a photo of himself next to the sheriff's cruiser.
He later pulled down those tweets and offered an apology.
"Y'all I apologize," Owen wrote on Sunday. The [Indian River County] Sheriff was doing their job. I love hometown. I had too good of a time on Cinco de Mayo."
He went on to say, "I want to publicly apologize again for bringing to light a situation that I overreacted to. I embarrassed myself and my family and most importantly the great people of my hometown. The Sheriffs were doing their jobs and I made an immature decision to announce it to the world."
Then on Monday, Owen wed Buchanan in a small, private ceremony.
He tweeted, "A best friend for life. I now have a wifey

my face hurts from smiling. What a wonderful way to start the rest of my life."
The couple got engaged only last month after Owen proposed to Buchanan on stage during a concert.