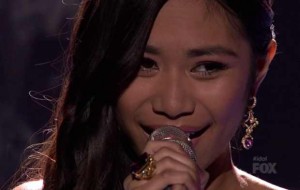 "American Idol" contestant Jessica Sanchez has done it again. She surprised everyone with her performance of Jackson 5's "I'll Be There". Hell, the judges couldn't control their emotions that they actually compared her to Michael Jackson himself.
Jessica Sanchez also performed from Steven Tyler and also the Aerosmith hit "I Don't Wanna Miss a Thing.". She received a standing ovation for her performance.
Jennifer Lopez simply put that she sounded like Michael Jackson himself in the beginning.
She also performed well Mariah Carey's "My All" and as you guessed stunned everyone there too.
Looks, like after every show new heights of her talents are revealed.
But will she make it the finals?
Watch her performance:

What do you guys think? Agree with the Judges? Will she make the finals?