Jessica Simpson's baby has received a lot of attention from the media even before it was born. Jessica Simpson and Eric Johnson, welcomed their new daughter today morning.
This is their first child.
Maxwell weighed 9 lbs. 13 ounces.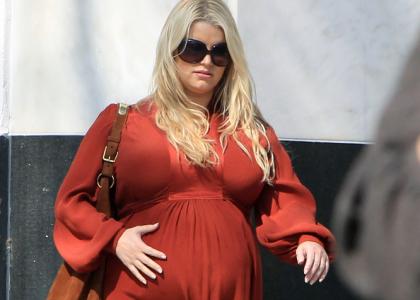 Since announcing her pregnancy last Halloween over Twitter, Simpson posed nude for the cover of Elle magazine, shared her cravings like salted cantaloupe and pop tarts and joked about her excess of amniotic fluid on "Jimmy Kimmel Live."
The name is a tribute to the couple's families: Maxwell is Johnson's middle name and the maiden name of his mother, and Drew is Simpson's mother's maiden name.
And Life & Style was first to report that the parents plan to call their baby Maxi for short.
"We are so grateful for all of the love, support and prayers we have received," Simpson said in a statement on her website. "This has been the greatest experience of our lives!!"
But now the name seems to a problem with most of her fans, if not all. The internet has turned into a heated discussion as people are worried that the name Maxwell for a girl could turn an annoyance for the girl or even her short name Maxi could be ridiculed at.
Well, if the hundreds of comments on Yahoo! are any guide, J-Simp couldn't have been more wrong.
While wishing the new mother and child well, some couldn't help but weigh in on the choice of the name. One wrote, "Maxwell? That's like naming a boy Julie. You can call her Maxi but her license will always say MAXWELL and that is just wrong. Poor thing."
Another wrote, "Cute name but they are going to go round and round at the school over being called Maxi pad all of her school days."
Annie81 worried, "What is it with these people and baby names? Maxwell? It's not enough that sounds like a BOY'S name… it's going to be the source of 1000's of jokes and kids making fun of her."
CZL noted, "Not fond of Maxwell for a girl, but since it is a family name I can see where it makes some sense."
Commenter Allen wrote, "Maxwell? May as well named it Bob."
Others liked it: As one wrote, "Maxwell, smart." Loretta added, "It's still better than Blue Ivory, Apple, Rumor,etc."
Seriously people, Maxwell is a good name. If you have problems keep it with yourself. We are sure Jessica would have thought this over before she kept the name.
What do you think? Maxwell, its a good name right?