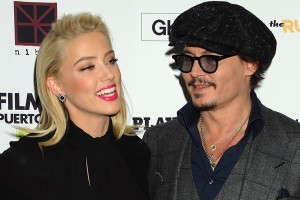 Johnny Depp and Amber Heard have been in a relationship for quite some time now, around 14 months. But now Johnny Depp wants to take a different route, he claims that Amber Heard is bisexual and that he has allowed her to see and have relationships with other woman.
Is Johnny Depp trying to paint a picture that he is big hearted? Well though it looks like it Johnny Depp has also forced in an condition that Amber Heard must be completely open about her relationship with other woman and he needs to known anything she does.
An inside source told British magazine Look: "Johnny always knew this aspect of her life was important and he says as long as she makes it clear he's her number one, she can do whatever she likes. It's liberating for both of them. They are both very honest and open with each other and this pact has just made them stronger as a couple."
Amber has always been very open about her sexuality, saying that she never wants to define herself in conventional terms.
The source also spoke about Amber's honesty with Johnny Depp:
"Amber's always been honest with Johnny and told him from the start that she can't change who she is, and that she'll always be interested in women as well as men. He has now promised her it's fine if she has someone on the side, as long as they're the same sex."
In the dating pact between Depp and Amber, as mentioned, she is allowed to date woman. There are no reports yet though that Johnny is allowed to go date other woman, or men for that matter.