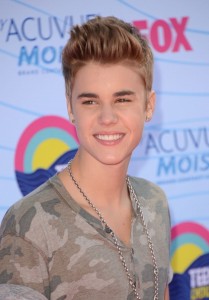 Justin Bieber is coming to "The X Factor."
The "Boyfriend" singer is joining the singing competition as a celebrity mentor to L.A. Reid's group of singers.
He even tweeted to his own real-life mentor, Reid, "long day but great day… just like old times! thanks."
Bieber will appear on "X Factor" during the judges' house round — where each of the four judges chooses four contestants to compete in the final 16.
The pop star will work closely with Reid's group of singers to help better their shot at winning the competition.
This is not the first time The Biebs has been on the show. He performed a couple of songs last season.
Nick Jonas has also reportedly been tapped as a guest mentor on the show, and is said to be working with Demi Lovato's group of aspiring stars.
Are you looking forward to seeing Bieber on "The X Factor"?