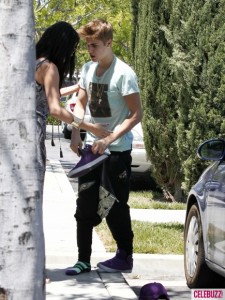 Justin Bieber has got himself in trouble. Justin Beiber and Selena Gomez were out on a date when Justin Bieber reportedly got in a fight with a paparazzo on Sunday in Calabasas.
It looks like Justin Bieber lost his cool and started chasing the paparazzo when he lost one of his shoe and hat. Eventually, a fire truck, the police, an ambulance and paramedics were called to the scene.
What really happened between the paparazzo and the Justin Bieber were not clear. Justin Bieber and Selena Gomez were leaving the local mall after watching a movie when this incident happened.
But the funny part is that paparazzo was the one who called 911 as he feared for his life.
There were other photographers on scene who though missed the fight got photos of Selena Gomez trying to cool down Justin Bieber.
By the time the police and an ambulance arrived to treat the paparazzo, who was complaining of upper torso pain, The Biebs and Gomez had already split.
After being released from a local hospital, the unnamed photographer later filed a report in which he named Bieber as the suspect in what the police are treating as a misdemeanor battery.
Gomez, however, took to Facebook to write, "THANKS YOU SO MUCH to my fans for always protecting me and being there for me. I can't thank you guys enough. I'm sorry I had to rush out. Love you guys."