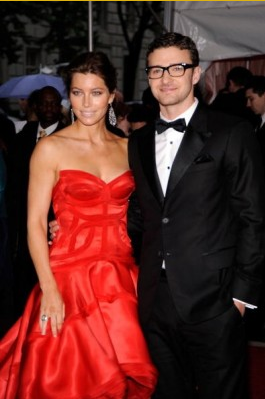 Justin Timberlake and Jessica Biel have thrown an engagement party for the closest friends and family.
This star studded party was had only 100 guests.
The bash took place at the Los Angeles home of Estee Stanley, Timberlake's collaborator on their HomeMint collection of furnishings and goods.
Among those at the semi-formal affair were former NSync members Lance Bass and JC Chasez, as well as Ellen DeGeneres and Portia DeRossi, Timbaland, Amy Adams, Biel's parents Kimberly and Jonathan, and Timberlake's best friend Trace Ayala, whose truck was kicked in last week by the paparazzi.
Everyone dined on appetizers from Wolfgang Puck, and there were speeches before the crowd got down to a deejay spinning tunes by Madonna, Michael Jackson, and Usher, among others.
Biel and Timberlake "were dancing up a storm" and "looked so happy," a source tells Gossip Cop.
The couple got engaged last December.