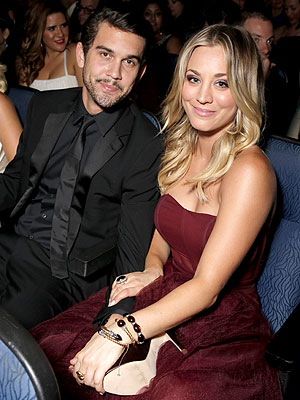 Kaley Cuoco is taken guys! Kaley Cuoco is engaged to her boyfriend Ryan Sweeting, her rep has confirmed this to us.
Kaley Cuoco, the Big Bang Theory actress and her tennis player boyfriend Ryan Sweeting made their red carpet debut at the 65th Annual Emmy Awards on Sunday.
Kaley Cuoco looked stunning wearing a oxblood-colored dress by Vera Wang. Looks like she was just too irresistible for Ryan. Just days after their 'greatest date ever' we come to know that they are engaged.
Yes, on Friday, Cuoco, 27, called Sweeting the "greatest date ever" on Instagram, sharing a cuddly photo of the pair.
"He is an amazing guy," says our source. "She is so happy."
"#emmyweekend greatest date ever @ryansweething," she wrote.
Sweeting, 26, later shared a sweet snapshot on his Instagram account writing, "A million people, all I see is her @normancook #emmys"
Prior to dating Sweeting, Cuoco briefly dated Man of Steel actor Henry Cavill.