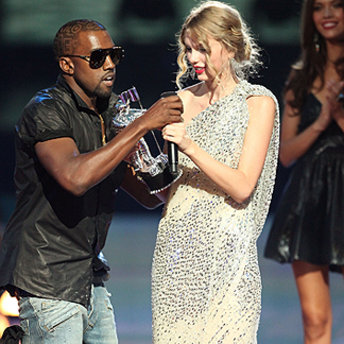 Kanye West just couldn't control his tongue. Kanye West went on diss about Taylor Swift during a performance in Hammersmith Apollo.
Kanye West went on a ranting rampage, dissing Taylor Swift and various other celebrities.
Is is Kanye West's in ability to make something out of his life making him do life this?
During his ranting in London, West commented, "Taylor Swift beat Beyoncé at the Grammys? Beyoncé be dancing in heels and s—." He didn't stop there, he went on to also bash Justin Timberlake's new single by stating, "I got love for Hov (Jay-Z), but I ain't f—in with that Suit and tie." Apparently the statement about this was in response to Jay-Z and Timberlake's collaboration on a recent song that Timberlake has Jay-Z featured on. The two also recently performed the song at the 55th Grammy Awards. They will also be kicking off a tour together in July.
West also insinuated about others he feels has sold out by selling drinks and commented, "Can I sell your drink for you please? So you can help me put on a better show?" He went on to say, "Please corporations? Can you please support me, please? Me, Kanye West? I swear I'm a nice n—a now. I swear I'll put the pink polo back on. I swear to you. Please? Just for $3 million. I need it so bad. I need a new pool in my back yard. So I'll tell all my fans your s— is cool. And if they believe in me they should also believe in you, did the corporation send the check yet? What's my public rating right now? Are people liking me again? Enough to get some money from the corporations? Are they liking me now? They forgot about the whole Beyoncé thing right? OK cool. Is it OK now? See his rant you YouTube.
West, Jay-Z, and Beyoncé are still friends, correct? Apparently he forgot Beyoncé recently signed a $50 million dollar deal with Pepsi. Did West possibly forget, or did he simply do as he seem to do a lot, speaking without thinking before opening his mouth. What do you think Jay-z and Beyoncé will think about his ranting rave? Because it seems he's directing some things towards them as well as others. What is really wrong with Kanye? Is there a reason why he can't just go to his shows and perform instead of bashing others?
While Kanye West is ranting, others sure are making progress. We think Kanye West needs to concentrate on what matters. What do you think?