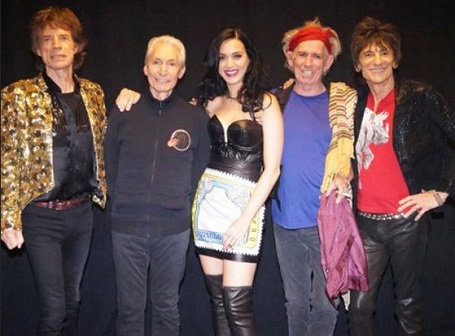 Katy Perry had her dream come true, she got to sing a duet with rock legend Mick Jagger of the Rolling Stones!
According to E! News, the Rolling Stones were in Las Vegas over the weekend for their "50 and Counting" Tour. And during the concert, Katy Perry, 28, joined Mick Jagger, 68, on stage for a duet of the Stones' hit "Beast of Burden."
Perry had a great time and took to Twitter following the performance saying, "Yes, I just gyrated on Mick Jagger. WHAT?! #Stones50." And then on Sunday, she thanked the Stones for the once in a lifetime experience. "Thanks for letting me be the 5th wheel last night," she wrote.
But while Perry seemed to have a great time, not everybody was feeling her duet with Jagger. In fact, according to the Examiner, some people didn't like it at all and were quick to post their own comments about the performance. One Stones fan said the rock group had forgotten what they were all about, who their true fans were, and were beyond pathetic. Another fan agreed saying, "OK now we've reached rock bottom. What's next Mick…rapping with Lil Wayne…duets with Justin Bieber? This tour is going to be remembered as a joke," he said.

What did you think of Perry and Jagger's duet? Did you love it? Or did you hate it? We know you have an opinion and we want to hear it so sound off in the comments section below and tell us all about it!