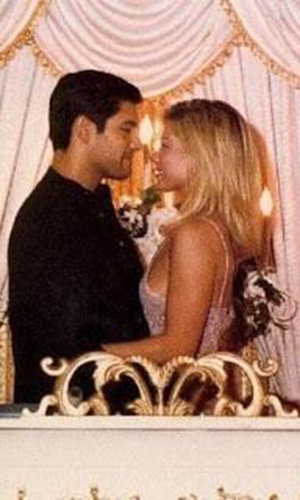 Kelly Ripa 1996 photo – Kelly Ripa and Marc Consuelos are truly a couple made for each other. Kelly Ripa shared her 1996 Vegas Wedding Photo to mark their 17th Wedding Anniversary.
17 Years, that is like more than a decade and half! Wow! We really need to congratulate this couple for making their marriage a success being in showbiz.
Well, Kelly Ripa and Marc Consuelos are one of the few! The couple celebrated their 17th wedding anniversary on Wednesday and to mark the occasion, the "Live With Kelly and Michael" host posted to Twitter a pic of herself and her hubby back on the day they tied the knot.
"OMG. Here it is. 5/1/96," Ripa, 42, wrote alongside the old shot, that showed the then-25-year-old tanned and blond bride in spaghetti straps staring into the eyes of her groom, also 25, who wore what looked like a black blazer. As for why the decor in the pic is so, er, tacky (behind them are pink valance curtains with gold trim; in front of them sits an altar with ornate ironwork), well, it's because they got married in Vegas!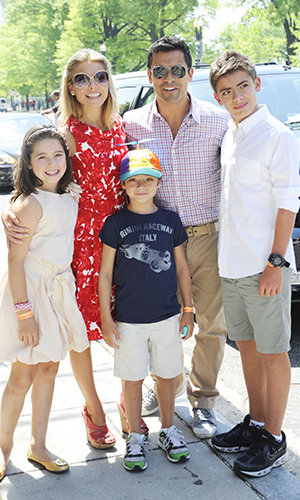 It was a Tuesday in 1996 when Ripa and her "All My Children" co-star and boyfriend Consuelos Kelly Ripa and Marc Consuelos discovered they didn't just have Wednesday off, but Thursday, too. So they did what any two crazy kids in love would … they flew to Las Vegas and got hitched! "We were never engaged," Ripa revealed on her morning talk show last year. Fortunately, their plan worked! The couple has been married ever since and has three children together: Michael, 15, 11-year-old Lola, and 10-year-old Joaquin.
We're not sure what kind of digs the newlyweds were living in back in the early days, but maybe part of the reason they've had such a great marriage is because they've gotten to wake up in this super-luxe, multi-million-dolar New York City apartment for the last eight years.