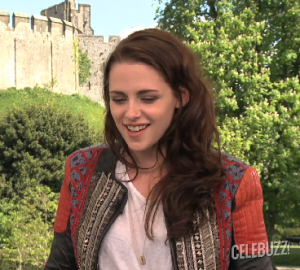 Looks like Kristen Stewart can't get enough of Robert Pattinson. After their successful on-screen romance in Twlight and increased their fan base, Kristen Stewart has revealed that she would love to do another movie with Robert Pattinson.
Kristen Stewart in an interview with Celebuzz, when asked about the possibility of reuniting with Pattinson in Fifty Shades of Grey. Though she did reveal that she currently has no involvement in the movie she also confessed that she is "dying to make another movie with Rob."
Stewart notes, "I think that we're a good team," emphasizing their next film together would need to be "so ridiculously ambitious."
"I would love to work with him again," adds the Snow White and The Huntsman star.
You can watch the complete interview below:

Wow! Looks like something is happening. What do you guys think?