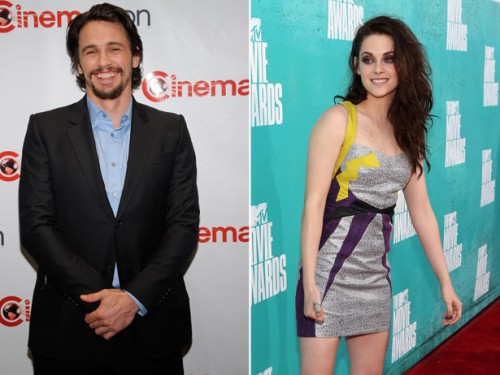 Kristen Stewart and James Franco were caught by sources Flirting for about 20 minutes at the end of which James France asked Kristen Stweart for a dinner date.
Could James Franco be the right guy for Kristen Stewart?
When we think about it, they somehow seem perfectly matched. Between Stewart's distaste for fame and Franco's fascination with the concept, they could balance each other out — and it seems like we aren't alone in our theory.
The pair ran into each other at the Intercontinental Hotel during the Toronto International Film Festival last week, and according to RadarOnline, to say that Franco, 34, is "enamored" with Stewart would be an understatement.
"There was a lot of flirting and Kristen was overjoyed by the attention she was getting from James, who was gushing over her, saying what a great actress he thinks she is and was full of praise for her latest movie, 'On The Road'," a source revealed to the website.
The two stars reportedly chatted for 20 minutes and by the end of the conversation, the "Spring Breakers" actor was "smitten" with the 22-year-old actress and even tried to set up a dinner date, but she reportedly turned him down.
We can't say we're too surprised that Franco was rebuffed, as Stewart is coming off a very public cheating scandal, and it's still unclear if she and Robert Pattinson have officially called it quits.
Though he was turned down, a source told the website that Franco was undeterred, and continued to try to convince Stewart to go out with him once they both returned to Los Angeles.
Sources told RadarOnline that Stewart appeared to be at ease while talking to Franco, who even managed to make her smile. Stewart initially turned Franco down, but an insider says she's considering his offer.
Again, no word if Stewart and her boyfriend of four years have officially ended their relationship, but she recently placated everyone's fears that the pair would be in for some awkward encounters come November, when they have to promote "Breaking Dawn – Part 2," telling the Associated Press, "We're going to be fine. We're totally fine."
At this point, it looks like reconciliation probably won't happen for the young couple, but Stewart is said to be struggling to let go of the relationship. The "On The Road" star was again spotted wearing Pattinson's baseball cap as well as one of his T-shirts, which according to sources means she's desperately clinging to what they once shared.