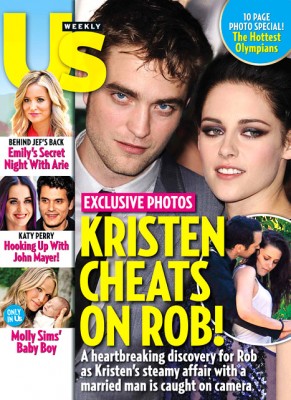 Kristen Stewart went public today and posted on open apology on her twitter account. Kristen Stewart and Rupert Sanders, the 41-year-old director of Snow White and the Huntsman who is actually married with two kids were caught kissing by the US Weekly who published photos of their affair.
Kristen Stewart's open apology acknowledges the affair.
Here's the statement:
"I'm deeply sorry for the hurt and embarrassment I've caused to those close to me and everyone this has affected. This momentary indiscretion has jeopardized the most important thing in my life, the person I love and respect the most, Rob."
Stewart ends by saying, "I love him, I love him, I'm so sorry."
The secret relationship was being speculated by the media but with no word from those involved there was no official confirmation. With Kristen Stewart herself confessing and apologizing it has indeed confirmed the earlier reports about a possible relationship between Kristen Stewart and Rupert Sanders.
Well, we'll just have to wait and see how everyone involved is going to react.
Rupert Sanders's wife and Robert Pattinson are yet to respond to Kristen Stewart's apology.