Kristen Stewart looked sexy in a see-through dress that she wore for the British premiere of "Twilight Saga Breaking Dawn – Part 2″.
Kristen Stewart sure is a daring girl.
Kristen Stewart wanted all eyes on her on Wednesday and it was exactly what she got. She wore a parkly black lace bodysuit with an open back that left little to the imagination.
On the London Premiere too she wore a daring dress, another see-through strapless gold dress. Both her dresses were from Zuhair Murad's fall/winter "Skin Flowers" collection.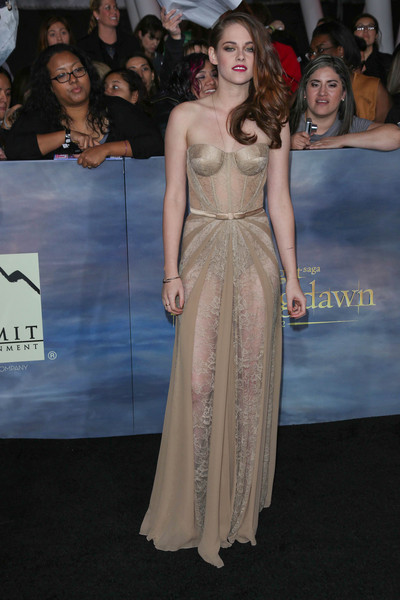 "Every time we come back to do anything for these movies, it's always the same feeling," she tells People.com. "It's what we're going to miss. It's that excitement. You don't ever get to share movies on such a vast [level]. I have something in common with every single one of these people here, which doesn't happen. It's pretty cool."
"Breaking Dawn – Part 2″ opens in theaters Friday, Nov. 16.