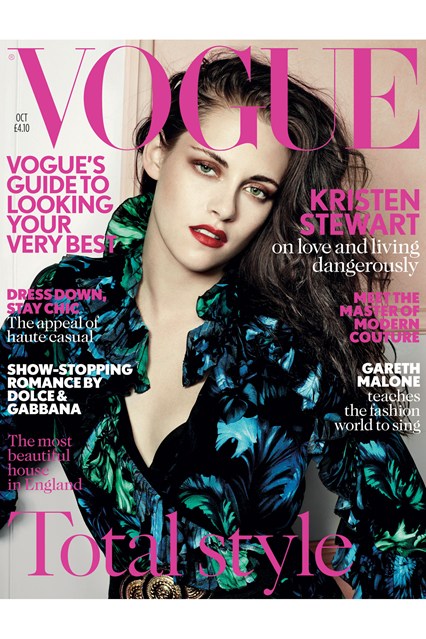 KRISTEN STEWART has landed her first ever British Vogue cover, gracing the front of the new October issue – out on Friday September 7 and nationwide on Monday September 10. In it, she talks to Christa d'Souza about her relationship, fame and her public image.
"I know that if you haven't thought about how you want to present a very packaged idea of yourself then it can seem like you lack ambition. But, dude, honestly? I can't," said Stewart. "People expect it to be easy because there you are, out there, doing the thing that you want and making lots of money out of it. But, you know, I'm not that smooth. I can get clumsy around certain people. Like if I were to sit down and think, 'OK, I'm really famous, how am I going to conduct myself in public?' I wouldn't know who that person would be! It would be a lot easier if I could, but I can't."
Although Stewart's private life has fallen prey to a media storm over the past month, her career is increasingly on the rise. She currently stars in the film version of Jack Kerouac's iconic novel, On The Road, in which she plays 16-year-old MaryLou – a character based on the young wife of Neal Cassady. The non-conformist liberal nature of the Beat Generation is something the 22-year-old actress relates to.
"There is always going to be that seam of people who want things differently to the standardised version," she said. "It's not necessarily a rebellious thing, it's just who they are. That world back then, it just seems freer to me than anything I could ever touch and I'm fully nostalgic for it, even though I wasn't even alive then. It's the loyalty aspect of it all. I love being on the periphery with a group of people who have the same values that I do. People who don't get off on fame, who just like the process of making movies and thrive."
Source: Vogue.co.uk