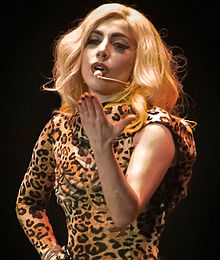 Lady Gaga reportedly received a concussion after one of her backup dancers accidentally hit her on the head with a pole while performing her Born This Way Ball show in Auckland, New Zealand on Sunday.
In the middle of singing "Judas," Gaga got smacked in the head with the pole, and then placed her hand on her head — but still went on with the song.
The superstar reportedly told the crowd, "I think I may have a concussion, but don't you worry I will finish this show."
Indeed, she sang a dozen more hits.
Check out the video below of Gaga getting hurt performing.
Video:

Source:GossipCop