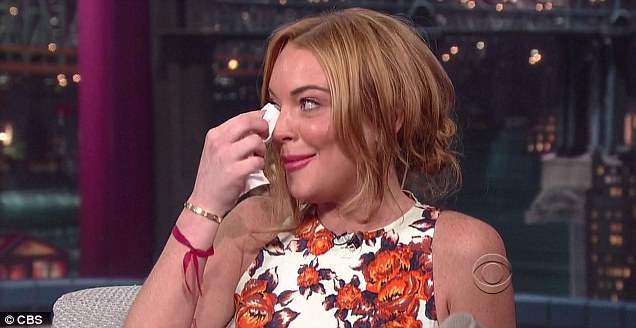 Lindsay Lohan cries during the interview in David Letterman's show. David Letterman kept pushing his luck trying to get as much information about the rehab and Lindsay Lohan's drug problem when she finally broke down and started crying.
Lindsay Lohan usually cries only when she is court, elsewhere she is a happy girl joking about herself and her problems and even the tabloids that cover her story. But David Letterman sure did push the wrong buttons.
Lindsay spent almost 15 minutes sitting down with Dave, parrying and dodging his probing questions and managing to look pretty poised along the way. Words and phrases like "positive," "looking forward to it," "happy and healthy" and "time for me" were quick to come from Lilo, but Dave had enough time that he wasn't about to let her get away with a total whitewash of her situation, which sees her headed to court-ordered rehab starting May 2.
One comedic highlight came around the four-minute mark, when he prepared to pepper her with a "this is your life" type of list. Lindsay took the matter into her own hands — literally.
"I have a list here of things you've endured," Letterman said. "Can I run down a few things here?" (Bad move asking permission, Dave!)
"Can I see them first?" said Lohan, taking his pages away from him.
"You can read 'em or not read 'em," he allowed.
Lilo laughed broadly as she scanned the page. Then she laughed more broadly.
"I thought you were going to be nice!" she said.
At that point Letterman reached over to point at the sheets, but Lohan appeared to think he was trying to take them back. She played keep-away.
Pointing at the paper, she said, "These are the appetizers up here, these are the main courses, there's your desserts down at the bottom."
She read from Letterman's notes aloud. "'Community service hours 560. At the morgue!' … Yeah, I was at the L.A. County morgue…. 'Are you OK now? It feels like people should be helping you. Do you have money saved? Therapy?'" Then she faced the crowd: "'Ask yourself, why always in trouble?'"
Big laughs.
The pages went back to Letterman eventually, and he did try one more time to read from the list, but was shut down very directly by Lohan, who said she didn't want to make her situation a joking matter.
But that wasn't what brought on the tears.
"We never thought we'd see you again, honestly, because of the jokes and stuff," Letterman said later in the chat, "but yet you have enough spine, enough sense of yourself, enough poise to come out here and talk to me."
The audience responded with a big round of applause, only to be silenced by Letterman as Lohan took a swig from her coffee mug.
"Oh, I thought this was going to be vodka," she said, alluding to the many stories that have had her drinking the spirit out of containers designed to make it look like water. "Shucks."
"You've gotta stop drinking," Letterman said, zooming in for the kill one last time. "They don't let you drink in rehab."
"It was a joke!" she said.
"I know. I wish you'd come out with the tags on your dress though," he said, referring to a gag that riffed on rumors of her alleged kleptomaniac ways.
"I know, it would have been so funny," she agreed. "It's not funny because it's hurtful towards me but, no, I love seeing you."
"Love seeing you," he said.
"Stop," Lohan said, dabbing at her eyes.
"Aw," Letterman said, "she's tearing up a little bit. God bless ya."
The chat wrapped up with a peek at a "Scary Movie V" clip of Lilo and Charlie Sheen, but not before Letterman grabbed a tissue for Lohan and she chided him for making it obvious that the tears were there.
Check-out the video of the entire interview below: