Maria Bello after all these years, decided that maybe she was looking at the wrong type of people for a relationship. She has reveled that she is dating a woman now.
In a New York Times article titled, "Coming Out as a Modern Family," the "Prisoners" actress details how she told her 12-year-old son, Jackson, that she was in a relationship with a woman.
"I was with someone romantically and I hadn't told [Jack]," Bello writes. "I had become involved with a woman who was my best friend, and, as it happens, a person who is like a godmother to my son."
Maria, 46, explains the process she went through to acknowledge this woman, Clare, was more than just a friend.
"My feelings about attachment and partnership have always been that they are fluid and evolving. Jack's father, Dan, will always be my partner because we share Jack," pens Bello. "Just because our relationship is nonsexual doesn't make him any less of a partner … My more recent ex, Bryn, remains my partner because we share our activism. And Clare will always be my partner because she is also my best friend."
Mario Bello dated, TV executive Dan McDermott who is Dan's father for several years before breaking up in 2006.
In 2010 she got engaged to musician Bryn Mooser after being together for 2 years but later revealed to Jack that she was in fact romantically involved with Clare.
"[Jack] looked at me for what seemed like an eternity and then broke into a huge, warm smile, 'Mom, love is love, whatever you are," writes the activist, noting, "Yes, he obviously attends one of those progressive schools in Los Angeles!"
"We have figured it out together: Jack, Clare, Dan and I," says Maria. "It's a rare weekend when we aren't piled in the same car, driving to one of Jack's soccer tournaments. Dan makes fun of Clare for getting lost and she makes sure he always has the umbrellas, sunscreen, water nuts and whatever else we might need in a nuclear disaster.
"So I would like to consider myself a 'whatever,' as Jackson said. Whomever I love, however I love them, whether they sleep in my bed or not, or whether I do homework with them or share a child with them, 'love is love,'" Maria writes. "And I love our modern family."
Bello tweeted a picture of her Modern Family on Friday: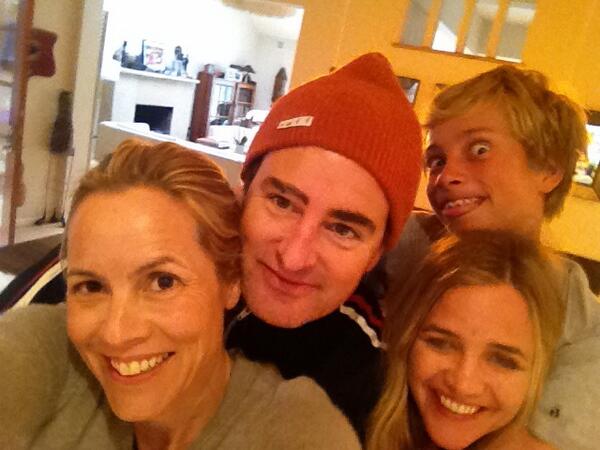 Be sure to check out the full interview at New York Times.