Mark Zuckerberg must have planned out a really tight week. Facebook's CEO Mark Zuckerberg married his longtime girlfriend Priscilla Chan at his Palo Alto, California home on Saturday.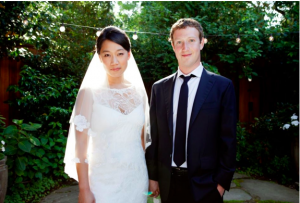 On Friday Facebook went public through it had all the hype it didn't really make a show in the NYSE.
The very next day Mark Zuckerberg married.
The fewer than 100 celebrants that gathered in Zuckerberg's backyard believed it was a party for Chan, who graduated from the University of California, San Francisco's medical school on Monday.
Instead, they were surprised to find it was a wedding for the couple who met at Harvard and have been together for more than nine years.
A Facebook spokeswoman said Zuckerberg designed the ring himself, and that it featured "a very simple ruby."
On Monday, Zuckerberg turned 28 and Chan graduated from the University of California, San Francisco School of Medicine, where she'd studied pediatrics.
Then on Friday, Zuckerberg took his blue-and-white web behemoth public in one of the most anticipated stock offerings in Wall Street history.
The seemingly well-coordinated timing was largely a coincidence, the guest said. The wedding had been planned for months and the couple was waiting for Chan to finish medical school, but the date of the IPO was a "moving target" not known when the wedding was set.
Attendees, including Facebook's chief operating officer Sheryl Sandberg, were told after they arrived that they were not mere party guests but wedding guests.
"Everybody was shocked," the guest said.
The person would not discuss the names of others who attended to protect their privacy.
The good improvement from all this is Mark didn't wear his trademark hoodie for his marriage. Though it is a good move, why should he ditch his identity on this very special day of his life?