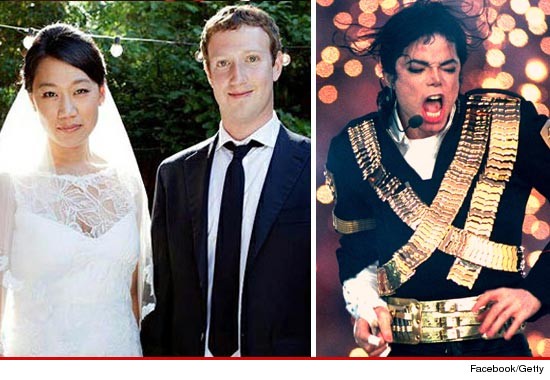 Everybody loves the King of Pop, Michael Jackson! Mark Zuckerberg is no exception. Mark Zuckerberg and Priscilla Chan got married on Saturday and being a celebrity wedding TMZ has been snooping around.
TMZ has learned that of the music tracks that were played in the wedding, Michael Jackson's songs just kept coming again and again. Looks like Mark Zuckerberg couldn't really get enough of it.
A neighbor of the Facebook CEO tells TMZ … they could hear the music coming from the wedding the entire time (as evidenced by our video where you can hear Billie Joe Armstrong singing from the street).
The neighbor tells TMZ there was plenty of upbeat music all night — including Flo Rida, Bon Jovi and Janet Jackson. But the overwhelming favorite was the King of Pop himself, Michael Jackson.
What music do you plan to play for your wedding? Or have you already played Michael Jackson's music?