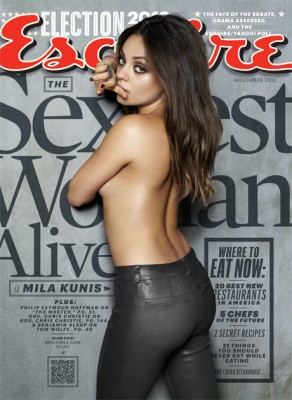 Mila Kunis has been named as the "Sexiest Woman Alive" by Esquire.
Esquire has given Mila Kunis this honor on it's November 2012 issue. But is Mila Kunis happy about this title?
In the accompanying interview, Kunis talks about the ugly side of Hollywood ("People are a**holes and people lie"), being able to do comedy on screen ("I'm not funny… I just know how to deliver a joke"), and other topics ranging from her experience as an immigrant to being followed by paparazzi.
She also delves into politics, religion, breaking the law, her sometimes-boss Seth MacFarlane, and making sure not to become defined by what she does.
"I love what I do. I couldn't imagine doing anything else. But when I'm done with work, I'm done with work," says Kunis.
She continues, "I think that if I bought into the hype, I would lose all sight of who I am, and so much of who I am is what my parents went through and instilled in me. And I never want to lose that. Ever. Because I would be so disappointed if I didn't make them proud."