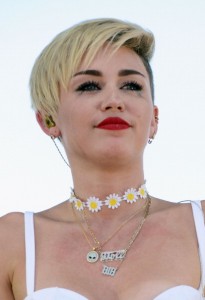 Miley Cyrus could not really hold back her tears as she broke down and cried during her first live performance after her split with Liam Hemsworth. And you guessed it right she was singing "Wreaking Ball".
Miley Cyrus performed "Wrecking Ball" live on Saturday for the first time at the iHeartRadio Music Festival Village, her first big appearance since splitting from Liam Hemsworth.
The singer appeared to still be reeling from some pretty raw emotions, as she broke down crying during the performance.
And, as the camera zoomed in at the end of the song, tears were still streaming down her face (see right).
Check-out the video below of Miley Cyrus crying during her performance.