Miley Cyrus really seems to have lost her marbels. She appeared in the Jay Leno's "The Tonight Show" almost-topless, she virtually didn't have a top.
Miley Cyrus top was threating for a wardrobe malfunction.
Poor, Jay Leno, he must have a hard-time controlling his gaze while interviewing her.
Miley Cyrus deserves to flaunt her body after attending countless numbers of Pilates classes to get in incredible shape. But the 19-year-old risked having a huge wardrobe malfunction on "The Tonight Show" last night (Oct. 12) when she showed up for her interview in a cleavage-baring crop top and high-waisted skirt.
Cyrus' eye-catching ensemble showed off her best assets, but almost gave away a bit too much as she chatted about her fiancé Liam Hemsworth and her new role on "Two and a Half Men."
"I've turned [Liam's trailer] into my office," Cyrus said of visiting "The Hunger Games" set in Atlanta, Ga. "I work on my music … and sometimes I just sit in there and color and watch TV. I have secret crayons for when I get bored, night shoots, you know?"
But although she may still be a kid at heart, Cyrus is a woman when it comes to romance. The newly blonde beauty told Jay Leno that she had a hard time kissing Angus T. Jones, also 19, on the set of "Two and a Half Men" because she felt like she was betraying Hemsworth.
"It was kind of weird because when I'm doing it the prop guys and all these people, they're like, 'Do you have your ring on?' And I'm like, 'Ugh. This feels weird,' like taking off my ring to make out with Angus," Cyrus explained. "It's creepy,it kind of felt a little weird at first."
Check out the photos below: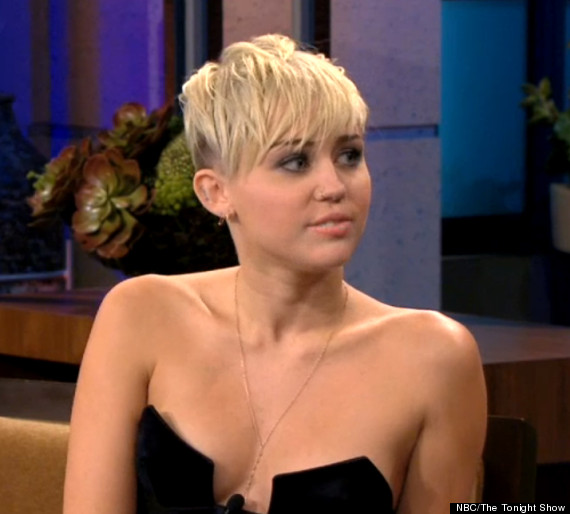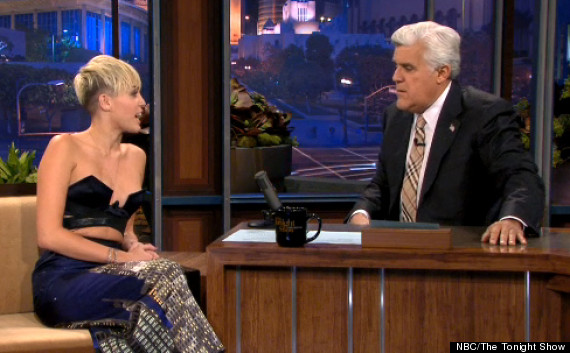 Well, it probably wouldn't be as "weird" as Leno catching a glimpse of her breasts … right?
We also got a video clip of the interview, check it out below: