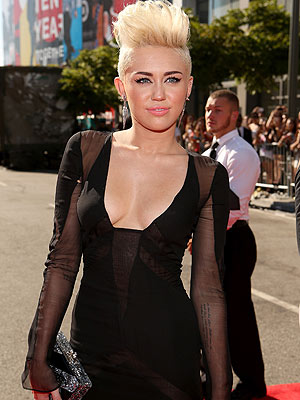 Looks like Miley Cyrus wants to play as the infamous bank robber Bonnie Parker.
Miley Cyrus is reportedly in talks to play Bonnie Parker in a new "Bonnie & Clyde" miniseries from History Channel and Lifetime.
Miley Cyrus has been going through a hell lot of changes over the past few months. So, many changes that she is barely recognizable anymore. Is this one of her disparate attempts to get more attention?
The "Hannah Montana" star is said to be meeting with directors, according to multiple reports.
Gossip Cop has reached out for confirmation on the status of the negotiations.
The project has been described as a four-hour miniseries chronicling Parker and her fellow outlaw Clyde Barrow, whose crime spree during the Great Depression has become American legend.
No names have been attached to the male lead.
Faye Dunaway portrayed Parker in the Oscar-winning 1967 film Bonnie and Clyde.
Quite frankly, Miley Cyrus so far hasn't exhibited any acting talent. Well she be able to do if she get the role of Bonnie Parker?