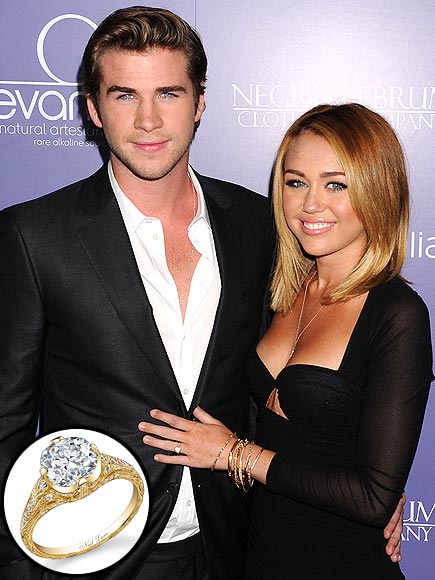 Has Miley Cyrus split with fiance Liam Hemsworth? Where's her engagement ring?
Miley Cyrus was caught today without her engagement ring and this has sparked rumors that about possible split, the very same day she tweeted that she didn't call off her engagement.
"I am so sick of La. And sick of the lies that come with it," she posted. "I didn't call off my wedding. Taking a break from social media. #draining"
Miley Cyrus was photographed outside of an L.A. recording studio late Wednesday night, the former Disney starlet, 20, tried to cover her face to avoid cameras, displaying two rings on her engagement finger that were not the bauble fiancé Liam Hemsworth gave her when he proposed last May.
Still, a source close to Cyrus – who has also been photographed without her engagement ring last month – insisted to PEOPLE on Thursday, "Miley still wants to get married."
But the relationship is not without its issues. Says the Cyrus source, "Miley and Liam have had some problems that they are working through."
The young couple "have always had a very passionate relationship," the source adds. "They have a very strong physical attraction, but have very different personalities and backgrounds. This makes their relationship very complicated."
Infidelity buzz and time apart have not helped matters.
"Miley is upset and angry about the cheating rumors," says the source of talk that began in late February. "Liam's trip to Australia was planned. He doesn't have a return date to Los Angeles yet."