Looks like the start of Miranda Kerr's son Flynn Bloom's modeling career, will he become a model like his mom? Time will tell. Miranda Kerr and her son Flynn Bloom are the Most Beautiful People 2012.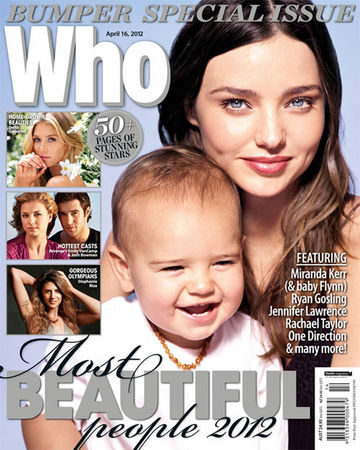 At 15 months old, the tot makes his magazine debut, posing with Miranda Kerr for WHO's Most Beautiful People issue.
With 18-hour work days modeling for Victoria's Secret and Australian retailer David Jones in the past, Kerr says "the pace has slowed so I can spend the majority of my time with Flynn."
"I'm first a wife [to husband Orlando Bloom] and a mother, and then comes work," Kerr, 28, explains.
The KORA Organics founder goes on to describe her baby boy as "a little ball of sunshine," and says he does take after her a bit.
"He has that look in his eye like, 'What trouble am I going to get into next?' But I like that – it's like me."
Photographer for the WHO shoot, Chris Colls, concurs: "Flynn is a natural in front of the camera, just like his mum!"
We can't wait to see what they get up to next.