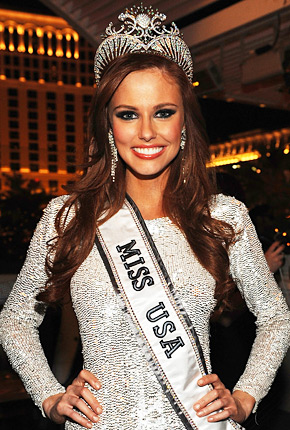 21-year-old Alyssa Campanella representing California has been crowned as Miss America 2011 at the annual beauty pageant in Las Vegas.
This is not Alyssa Campanella first beauty pageant, she represented New Jersey where she was born and raised at Miss Teen USA in 2007.
She will represent the United States at the Miss Universe pageant to be held in Sao Paulo, Brazil, on September 12.
Campanella was crowned by incumbent Miss USA, Rima Fakih, a Lebanese-born Muslim who was the first Arab-American to hold the title.
Miss Tennessee came in second, Miss Alabama was third, and Miss Texas was fourth.
Campanella is a natural blond who dyed her hair red for a play several years ago and never went back. She told Reuters that she moved to Los Angeles about 18 months ago, and would like to remain there once her duties were over.
After revealing on the show that she was a "huge history geek" with a special interest in the Tudor and Stuart periods, she added in the interview that her favorite monarch was Mary, Queen of Scots, who was beheaded in 1587.
Campanella won the crown despite giving a muddled answer when a judge asked her whether marijuana should be legalized in California. She replied that marijuana for medical purposes was "very important," but had concerns about whether legalization would help in the war against drugs.