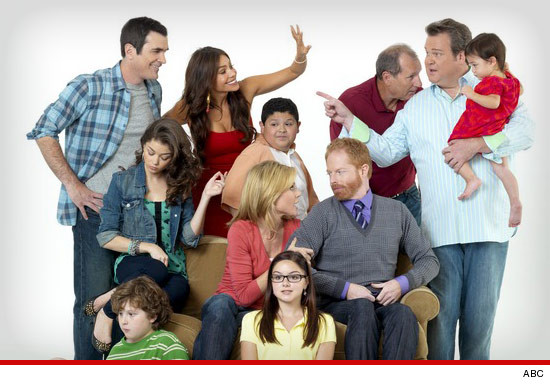 Producers for "Modern Family" settled their dispute with several key cast members the same way every American family does … throwing a bunch of $$$ at them, and now thanks to some major pay raises, everyone's getting back to work.
The cast members — Ty Burrell, Julie Bowen, Jesse Tyler Ferguson, Eric Stonestreet and Sofia Vergara — officially dropped their lawsuit against the ABC show, after coming to an agreement with the show's producers over their salaries.
If you recall — the adult cast members (minus Ed O'Neil) were upset over their contract negotiations —  they were holding out for a reported $200k per episode, according to The Hollywood Reporter.
The tryst with the show's producers resulted in the cast taking legal action to get out of their contracts altogether and halted production after a recent table read was cancelled.
All that's behind them now, THR reports that the show's producers and the hold-out cast members settled around $175k per episode … with the cast taking a cut of the show's profits as well. Their salaries will shoot up to around $350k an episode by the show's 8th season.
In exchange for the cash increase, the cast members extended their terms with "Modern" to 8 seasons, rather than the original 7, THR reports.
The co-creator of "Modern Family" Steve Levitan, told THR, "I'm of course thrilled and I cannot wait to get on stage Monday morning and start making the show again."
Source: TMZ.com