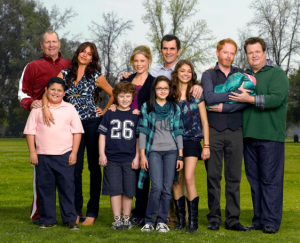 The cast of the "Modern Family" is suing the producer of the show 20th Century Fox Television over delay in finalizing their salaries.
Now, definitely we cannot argue that 20th Century Fox is going bankrupt that they now cannot release the salaries. This is just a on-going standoff between the producers and the cast in finalizing their salaries.
The cast was scheduled to sit down for its first table read on Tuesday, but the rehearsal was abruptly canceled after Ty Burrell, Julie Bowen, Jesse Tyler Ferguson, Eric Stonestreet and Sofia Vergara rejected the producer's latest offer of $150,000 per episode plus bonuses.
Soon after, the five actors filed a lawsuit in L.A. Superior Court to void their contracts.
Burrell, Bowen, Ferguson, Stonestreet and Vergara were said to be making more than $60,000 per episode during season three, but are pushing for an increase which would garner much more than $150,000 per show for season four, and even higher salaries for the future seasons.
Ed O'Neill is not part of this particular dispute as he was already making more than $100,000 per episode last season.
However, O'Neill is also trying to renegotiate his contract for more money.