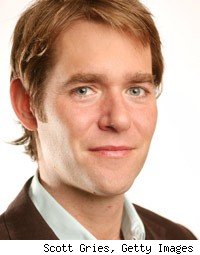 Perry Moore, executive producer of the epic 'Chronicles of Narnia' movie trilogy, was found dead Thursday morning in his bathroom, after what New York's Daily News calls an apparent overdose.
According to sources, Moore, 39, was found by his partner, Hunter Hill (the two wrote and directed 2008's 'Lake City,' starring Sissy Spacek and Rebecca Romijn) inside the home they shared in Manhattan's Soho neighborhood.
Foul play has been reportedly ruled out, and the cause of death is already being attributed by some to an OxyContin overdose. But the NYPD will not yet confirm that, and the medical examiner has told the Hollywood Reporter that after an inconclusive autopsy, more tests were needed.
Moore's father, who says he spoke to his son the night before he died, reacted to the devastating news.
"We're in shock," said Bill Moore, 69. "He was in a great, great mood. No one was expecting this….We're so sad….He's been able to reach out and touch a lot of people."
Perry Moore, a native of Richmond, Va., was not only a Hollywood power-player, but the award-winning author of 'Hero,' a novel about a closeted gay superhero. He had recently informed insiders that a fourth 'Narnia' movie was in the works (the most recent sequel, 'The Voyage of the Dawn Treader,' starring Liam Neeson, opened in December 2010). Based on C.S. Lewis' beloved 'Chronicles of Narnia' novels, the film franchise has already grossed more than $1.5 billion internationally.