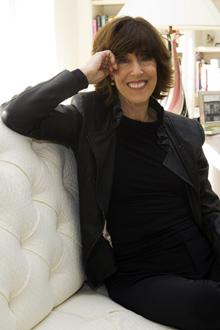 Nora Ephron, the essayist, author and filmmaker who thrived in the male-dominated worlds of movies and journalism, has died. She was 71.
She died of leukemia Tuesday night at New York Presbyterian/Weill Cornell Medical Center, her family said in a statement.
"She was so, so alive," said her friend Carrie Fisher. "It makes no sense to me that she isn't alive anymore."
Born into a family of screenwriters, Ephron was a top journalist in her 20s and 30s, then a best-selling author and successful director. Loved, respected and feared for her devastating and diverting wit, she was among the most quotable and influential writers of her generation.
She wrote and directed such favorites as "Julie & Julia" and "Sleepless in Seattle," and her books included the novel "Heartburn," a roman a clef about her marriage to Washington Post reporter Carl Bernstein; and the popular essay collections "I Feel Bad About My Neck" and "I Remember Nothing."
Her screenwriting credits included "Heartburn," the nuclear power drama "Silkwood" and the romantic comedy "When Harry Met Sally …" She twice directed the team of Ryan and Hanks, in "Sleepless in Seattle" and "You've Got Mail," and also worked with John Travolta (in the fantasy "Michael"), Steve Martin ("Mixed Nuts") and Nicole Kidman ("Bewitched").
Ephron was married three times: to Dan Greenburg, Bernstein and to "Wiseguys" author Nicholas Pileggi, whose book was adapted into the Martin Scorsese film "Goodfellas." Sisters Delia, Amy and Hallie Ephron also are writers and Nora and Delia collaborated on such films as "This Is My Life" and "Sleepless in Seattle."