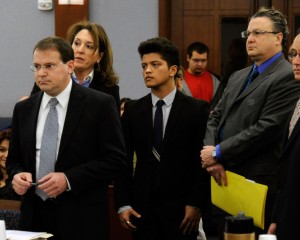 The Las Vegas deputy district attorney who prosecuted Paris Hilton for cocaine possession was arrested over the weekend after allegedly buying a rock of cocaine, authorities said on Monday.
Schubert, who has prosecuted Hilton and pop star Bruno Mars on similar charges, was released on Sunday after posting bail and was scheduled for an initial court appearance on Monday.
"I'm very disappointed to learn one of our prosecutors was allegedly buying rock cocaine," Clark County District Attorney David Roger told Reuters in a telephone interview. "This is an individual I placed a great deal of trust in by assigning him to a state and federal drug task force."
"That said, he was arrested and he will be charged and prosecuted like any other individual," he said. "We believe no one is above the law, including a deputy district attorney."
Roger said his office would charge Schubert and then turn the case over to Nevada's attorney general to avoid the appearance of a conflict of interest. He has been suspended pending termination.
District Attorney DAVID ROGER confirmed the arrest and said he was notified immediately.
He added: "It's disheartening to know the individual who I assigned to prosecute high-level drug cases is allegedly using rock cocaine."
He revealed that Schubert has now been suspended and was likely to be sacked.
He said: "His future is bleak with the district attorney's office."