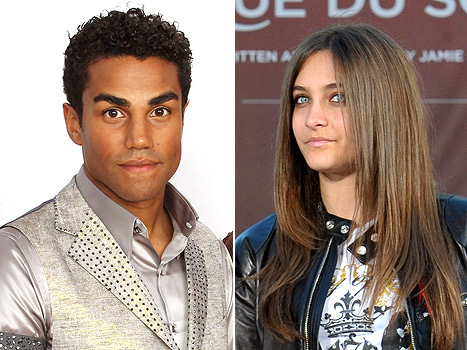 Michael Jackson's daughter Paris Jackson is the one who is 'hardest hit' by the death of her father, according to the nephew of Michael Jackson.
TJ Jackson, appeared on court today to testify on the wrongful death of Michael Jackson case. TJ Jackson is also a co-guardian of the Michael Jackson's three children.
TJ Jackson had some trouble keeping his composure and finally broke down when he had to talk about Paris Jackson.
"I think the loss of my uncle has hit her at a different level," he said of his cousin Paris.
The daughter of the late King of Pop remains in hospital after an apparent suicide attempt earlier this month .
"It's tough. She was daddy's girl. My uncle was her world," he said.
The 34-year-old was the second member of the Jackson member to testify after Prince took the stand, recounting for the first time the harrowing day of his father's death.
Michael Jackson's mother Katherine – who TJ described as "the queen"- is suing tour promoter AEG Live.
She accuses the company of negligently hiring Conrad Murray, the doctor convicted of involuntary manslaughter for giving the singer the drug that killed him.
Murray was found guilty in 2011 of administering the anesthetic propofol to Jackson to help him with chronic insomnia, as he rehearsed for the planned This Is It comeback tour.
TJ Jackson – a member of the group 3T with his two brothers – was last year made co-guardian of his three cousins Prince, Paris and 11-year-old Blanket.
Testifying in the AEG trial's ninth week, TJ, the son of Tito Jackson, said he had become extremely close to his uncle after his own mother died when he was 16.
"My world crumbled and my uncle Michael saved it," he said, at one point taking several seconds to compose himself after he was asked how much the late singer meant to him.
"He was just everything."
TJ Jackson, a member of group 3T, went on to criticise the scrutiny by the paparazzi.
He said that such scrutiny made it more difficult for Michael's children to grieve their dead father.
TJ Jackson also said the three children to not like the attention of the paparazzi.
"In my opinion, I know it's making everything harder for the kids to grieve and recover and progress," Jackson said.