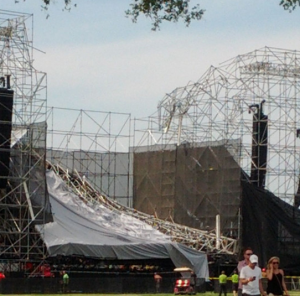 Radiohead's stage at Downsview park in Toronto has collapsed leaving one dead and at lease three injured. This incident happened before the band was set to perform there. The concert has been cancelled.
Radiohead tweeted, "Due to unforeseen circumstances tonight's [concert] at downsview park has been cancelled. Fans are advised not to make their way to the venue."
The Toronto fire department are at the scene and are helping the survivors. They have confirmed that one of the injured suffered a head injury.
The reason for the collapse is not yet known.