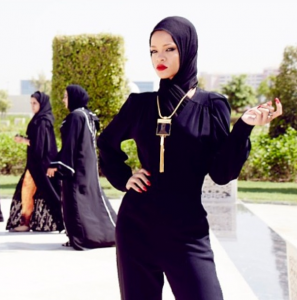 Rihanna who is currently touring Abu Dhabi found time this weekend to visit a mosque, dressed in full designer hijab.
On Sunday, the singer posted nearly a dozen Instagram photos that showed her posing while conservatively dressed and sporting a hijab.
Some Twitter users have commended Rihanna for dressing appropriately, while others questioned her bold makeup and sultry poses in front of such an institution.
She also jokingly captioned one photo featuring unidentified women, "B*tch stole my look."
For her concert on Saturday, the songstress was largely covered up to adhere to local customs, but still showed some skin and rocked some scandalous moves.
Checkout Rihanna posing in Hajab below, what do you think?