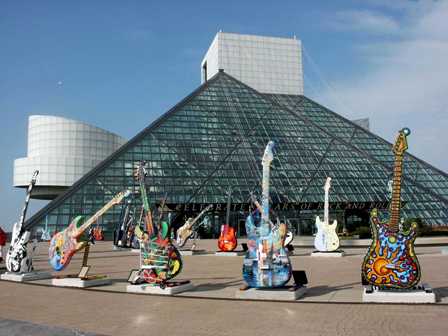 Rock and Roll Hall of Fame 2012 induction ceremony is over. A limited number of tickets were sold on Friday for public to join the ceremony. Guns and Roses rocked their way into the Hall of Fame.
The 27th annual Rock And Roll Hall of Fame Induction Ceremony took place on Saturday.
Many of music's biggest stars partied at tonight's 27th Annual Rock and Roll Hall of Fame induction ceremony at Cleveland's Public Hall. Guns N' Roses — minus Axl Rose, who did not show up to the ceremony and went so far as to deny himself inclusion into the Rock Hall because "it doesn't appear to be somewhere I'm actually wanted or respected" — headlined this year's inductees. According to the AP, the first mention of Rose's name at the ceremony drew boos.
Also inducted: the Red Hot Chili Peppers, the Beastie Boys, folk icon Donovan, late singer-songwriter Laura Nyro, and British bands the Small Faces and Faces. Green Day, there to induct Guns N' Roses, kicked off the celebration with a performance of "Letterbomb."
The ceremony will air May 5 on HBO.