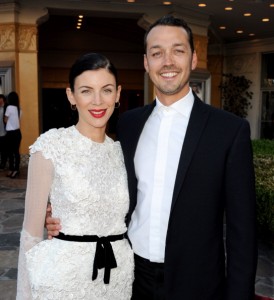 The dust over the Kristen Stewart affair is finally settling down and it seems that Liberty Ross might have forgiven Rupert Sanders as she reunited with her husband Rupert Sanders in Beverly Hills.
Too bad a similar patch-up between Kristen Stewart & Robert Pattinson is nowhere in sight.
Rupert Sanders and Liberty Ross marriage was rocked last month after Sanders confessed to being unfaithful with Kristen Stewart, were photographed together outside an office building and near a local eatery on Tuesday.
It marks the first time the Snow White and the Huntsman director and his wife of eight years have been spotted together in public since Sanders and Stewart's dalliance came to light.
Sanders and Ross have two young children together.