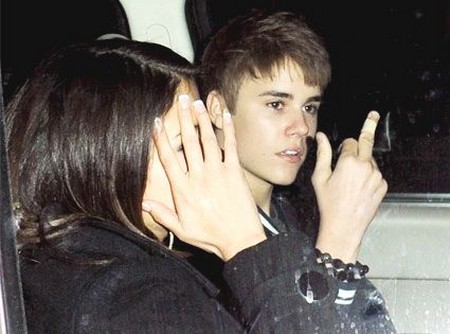 It looks like there could be trouble brewing for Justin Bieber and Selena Gomez.  The latest issue of The National Enquirer claims that Bieber's new crush on Vanessa Hudgens has left Gomez steaming mad. Vanessa, who is in a serious relationship with Austin Butler has been sexting with the teen idol and apparently it is pretty kinky too.  Gomez considers sexting tantamount to cheating and she just won't tolerate it.
Justin had the opportunity to spend some time with Hudgens when he visited his girlfriend, Gomez, on the Spring Breakers set back in February and March.  Bieber decided he liked what he saw in Hudgens, "He was there to see Selena, but he wound up falling hard for Vanessa. He couldn't stop raving about how smart, sexy and talented she is. He loves the fact that Vanessa is like Selena, but minus the goody-two-shoes personality."
The Enquirer also claims that the two have been secretly "sexting" since meeting earlier in the year and that, according to a pal, "Their banter tends to get very suggestive."
Rumor has it that Gomez has found out about the secret texts flying between her boyfriend and Hudgens, and that she is "threatening to dump Justin unless he cuts ties with Vanessa."  Could this be the reason we have seen Selena dressing much more suggestively these days – is she trying to make sure that Justin stays interested in her?
Do you think the Biebs is really sexting Hudgens or do you think it's merely gossip?  Would he ever look at another hot girl or is he stuck like chuck on Selena – I mean he is 18. Tell us what you think in the comments below.
Source : celebdirtylaundry.com