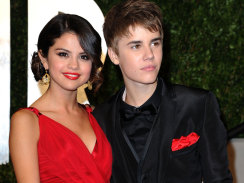 First off, this is a rumor and still not confirmed. You all know about how Justin Bieber attracts a lot of psychotic fans. It looks like one of them just punched Selena Gomez for dating Justin Bieber.
Selena Gomez has been receiving a lot of threats over the past few months for dating Justin Bieber and spending a lot of time with him. As a matter of fact many of them were death threats. Looks like now things are getting a little bit out of control.
Well these rumors started after some paparazzi photos were published photos of Selena Gomez apparently covering what appears to be a fat lip.
However Selena Gomez's rep has told that there is "absolutely no truth" in these rumors.
The photos of Gomez, a Disney star, were snapped outside of Maggiano's restaurant in L.A., where the starlet accompanied her beau for his 17th birthday dinner, People reports.