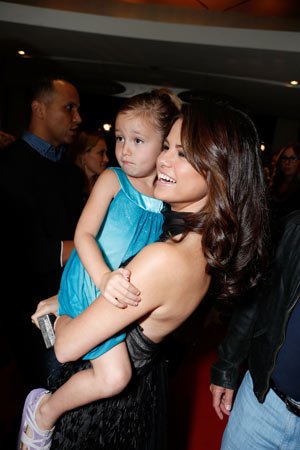 Selena Gomez sure went the extra mile on Toronto Film Festival, her date was Justin Beiber's 4-year-old sister, Jazmyn.
While we haven't noticed Justin Bieber by her side for quite some time now, looks like it was time the couple sent the media a message that everything is fine.
Selena Gomez brought Jazmyn Beiber with her as a date to the Toronto premiere of her new animated movie, "Hotel Transylvania".
Selena has been pulling double-duty at the famed film fest this week as she's starring in two films premiering in Toronto – "Hotel Transylvania" with Adam Sandler, Kevin James, Andy Samberg and Steve Buscemi; and the raucous adventure comedy "Spring Breakers," alongside James Franco, Ashley Benson and Vanessa Hudgens.
"Hotel Transylvania" hits theaters on September 28. "Spring Breakers" is slated for theatrical release next spring.