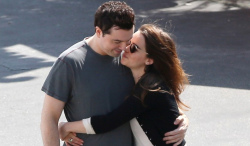 Seth MacFarlane and Emilia Clarke of "Game of Throne's" have split.
Seth MacFarlane, 39 and Emilia Clarke, 25 have split just because they are unable to maintain a relationship in their busy schedule. This is getting kinda a common reason these days.
"They are no longer dating. It was really a location challenge," a source tells Perez Hilton and E! News. "She has been in Europe shooting 'Game of Thrones' and he is based in California, so it was hard to make it work despite the distance. They have remained friends."
They were spotted together around the time of the Emmy Awards in September 2012 and they were photographed frequently together since then.
Prior to the high-profile hosting gig, the "Family Guy" creator briefly gushed about his gorgeous girlfriend.
"She is an incredibly kind, supremely talented person, and one of the hardest-working people I have ever met," he told Entertainment Weekly.
The young actress walked the red carpet solo at the "Game of Thrones" Season 3 premiere in Los Angeles on Monday night but was seen palling about with current and former cast members. She greeted her former "Thrones" flame Jason Momoa with a great big bear hug. But before any rumors start on that, the former Dothraki horse lord attended the premiere with his wife, Lisa Bonet of "The Cosby Show" fame.
Clarke is also doing some pin-up poses for GQ's April issue and playing Holly Golightly in a Broadway revival of Truman Capote's "Breakfast at Tiffany's." Something tells us she's going to be just fine.