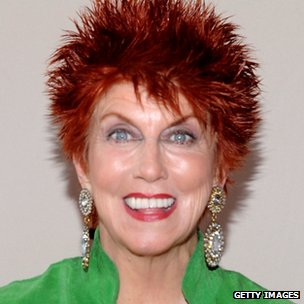 The US actress Marcia Wallace, best known as the voice of Bart Simpson's teacher Edna Krabappel, has died at the age of 70.
Her death was announced in a statement from executive producer Al Jean.
Wallace won an Emmy in 1992 for her work on The Simpsons, as a jaded, grumpy fourth-grade teacher, forced to put up with Bart's antics.
Jean said her "irreplaceable character" would be retired from the show.
"I was tremendously saddened to learn this morning of the passing of the brilliant and gracious Marcia Wallace," he said on Saturday.
"She was beloved by all at The Simpsons. It's a terrible loss for all who had the pleasure of knowing her."
'A legend'
Wallace had played Edna Krabappel since The Simpsons began in 1990.
Her character was known for the catchphrase "Do what I mean, not what I say" and exclaiming "Ha!" in disgust.
It is unclear when the actress died or what the cause was.
She had previously survived breast cancer, which she wrote about in her memoir Don't Look Back, We're Not Going that Way, published in 2004.
Before appearing in The Simpsons, Wallace played receptionist Carol Bondurant on The Bob Newhart Show and guest starred on popular shows in the 1970s and 1980s such as The Love Boat and Magnum PI.
Bill Schultz, an award winning writer and producer on The Simpsons, paid tribute to her.
"She's an icon and a legend, just a hard worker," he told BBC Radio 5 live.
"When somebody like that comes onto a show and takes on the character, all of a sudden, you know that character in a three dimensional way. She brings life to something that's written on a page."
Harry Shearer, the voice of her on-screen husband Ned Flanders, told the Associated Press that Wallace "brought this huge, positive energy" to her work on The Simpsons.
"She was just a warm and wonderful person," he said.
Executive producer Jean stressed that previous hints that a regular character on the show could be killed off in the next series were unrelated.
Souce: BBC News.