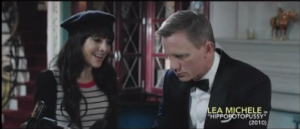 "Saturday Night Live" and its host Daniel Craig parodied the James Bond franchise, which is celebrating its 50th anniversary, with a commercial about its "lesser known" Bond Girls.
VIDEO BELOW
Among the women impersonated were Diane Keaton, Jodie Foster, Lea Michele, Molly Ringwald, Penny Marshall, and Ellen DeGeneres.
Check out the video below, and tell us what you think.