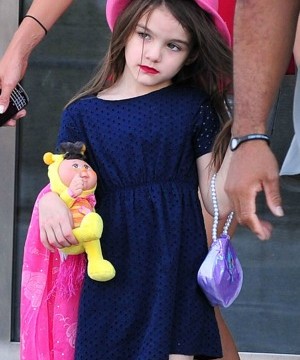 Suri Cruise, daughter of Katie Holmes and Tom Cruise broke her arm and Katie Holmes' rep has confirmed this to the US Weekly.
Suri Cruise fractured her arm and is currently said to be okay, no other information on how she broke her arm has been disclosed at this time.
The fashion savvy 7-year-old was recently spotted visiting Holmes, 34, in Cleveland, Ohio — the star's home state — on the set of her latest film Miss Meadows. The Dawson's Creek alum has been spotted wearing a wedding dress for the new role.
Suri previously was reunited with dad Cruise, 51, when she visited him in the U.K. in early August. The Oblivion actor also made sure to step away from his hectic schedule to celebrate his daughter's birthday in April.
Suri's broken arm incident comes just one month after an autograph seeker called the young girl a "little brat" in New York City. Photographer Cesar Pena caught the situation on tape.
"I had to take a step back, because I didn't want things to escalate," Pena later told Us. "We try our best to protect Suri. Of course we take pictures of her, but we always keep our distance."