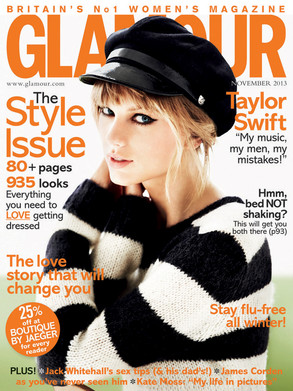 Taylor Swift seems to have come to the rescue of Miley Cyrus though the idea seems a bit far fetched, Taylor Swift in her latest interview with Glamour U.K. revealed her opinion about deal-breakers, cheating and also dating outside Hollywood.
But one subject she speaks a great deal about is being a role model.
The country crooner opens up about being under pressure and subjected to a public-scrutiny media storm—similar to the one that Miley Cyrus finds herself in the center of.
"There's room for role models who make mistakes," she confessed. "There's clearly room for role models who are made fun of at award shows, not that I necessarily enjoy being poked fun at! But that's gonna happen to them too."
Hmmm…seems as though the "22" singer is speaking about Cyrus' shocking MTV VMA performance late last month, right?
It looks like the blond beauty is standing up for the "We Can't Stop" singer in the midst of an onslaught of negative feedback.
T.Swift goes on to say that criticism can be found anywhere, "whether in a board meeting or in school or on Facebook," and that everyone has to face being "humiliated publicly."
"And if I can say, 'Yeah, I've taken a few hits over the years and I'm still going, I'm still happy!', maybe that's an example. It's not just about standing on top of the mountain with the wind blowing in your hair, looking fabulous."
Swift isn't a stranger to girl power and defending her fellow gal pals in the industry.
Earlier this year she told Vanity Fair that one of the greatest pieces of advice she ever received was from Katie Couric, who told her that "There's a special place in hell for women who don't help other women."
http://www.thfire.com/wp-content/uploads/2013/09/Taylor-Swift-Glamour-UK.jpg