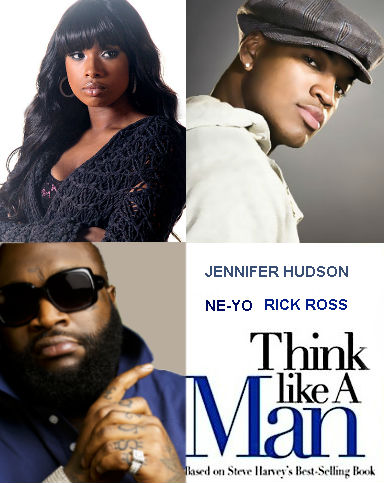 Think Like a Man has made it to the top grossing movie in the Box Office. As an added bonus it has dethroned The Hunger Games which was ruling the Box Office for the past 28 days.
The relationship comedy Think Like a Man debuted in first with a better-than-expected $12.2 million on Friday, according to early estimates. That puts the PG-13 movie on track for an opening weekend around $33 million — a big win for Sony-owned Screen Gems, which produced the flick for only $13 million.
Think Like a Man — which was directed by Tim Story and features an ensemble cast including Michael Ealy, Jerry Ferrara, Meagan Good, Regina Hall, Kevin Hart, Taraji P. Henson, Gabrielle Union, and Chris Brown — was the first film to specifically target an African American audience since February's Tyler Perry's Good Deeds. However, with an opening day estimate that was larger than all of Tyler Perry's films except Madea Goes to Jail, there's a good chance Think Like a Man had some crossover appeal. The movie received a superb "A" rating from CinemaScore audiences. It also skewed toward older women, with 68 percent of the audience being female and 75 percent at least 25 years old.
The romantic drama The Lucky One opened in second place with $9.1 million on Friday, putting it on pace for a $25 million weekend. That's a solid showing for star Zac Efron, whose last drama, 2010′s Charlie St. Cloud, mustered only $12.4 million its first weekend. It's also a victory for novelist Nicholas Sparks; among the seven movies adapted from Sparks' novels, only the 2010 hit Dear John debuted stronger. The Lucky One, which is rated PG-13 and cost $25 million to produce, earned a "B+" rating from CinemaScore moviegoers. Unsurprisingly, women made up 76 percent of the audience and gave the film a better grade (A-) than men did (B-).
In third, The Hunger Games dropped 38 percent from last Friday for $4 million. The sci-fi thriller should finish the weekend with around $13 million, pushing its humungous domestic tally to $355 million. Disney's fourth annual Earth Day nature documentary Chimpanzee came in fourth with $3.5 million — a slight improvement over last year's African Cats, which grossed $3.3 million its first day. The G-rated film garnered a strong "A" rating from CinemaScore participants, with women representing 68 percent of the audience — notice a trend this weekend? And rounding out the top five was the R-rated meta-horror film The Cabin in the Woods, which fell 55 percent for $2.5 million.